15-Minute Kimchi Fried Rice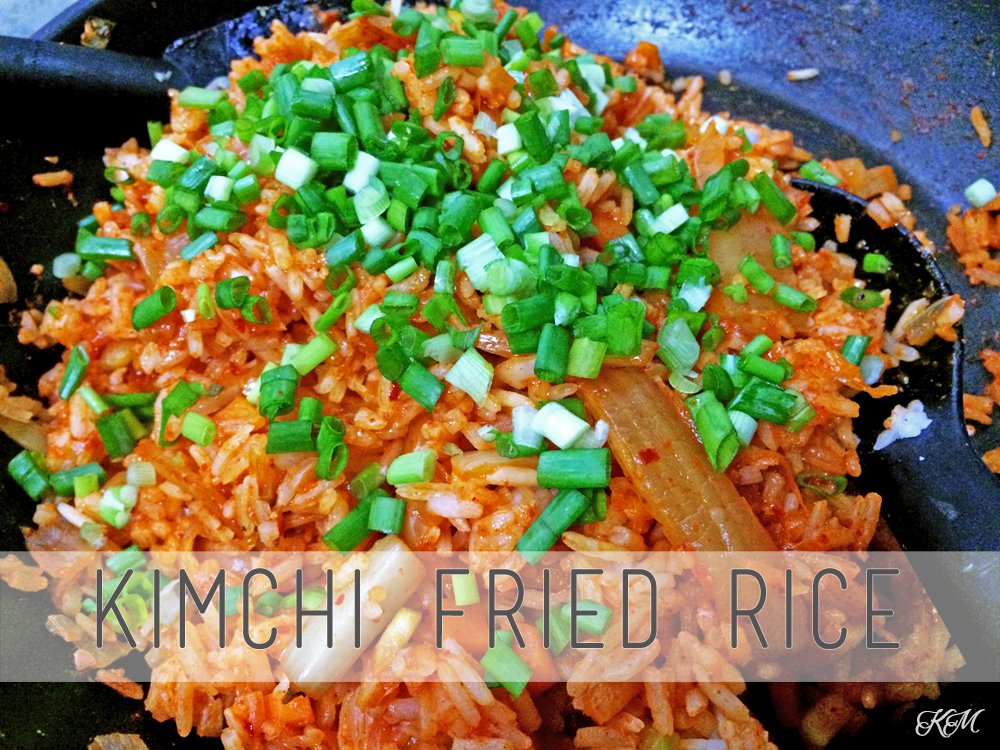 Last weekend, my mother was talking about making kimchi and even went out to the nearest supermarket to get the ingredients. Alas, she came home with all the ingredients but one - and the MOST important one at that! - the cabbage. So we ended up with no home-made kimchi and no satisfaction for our kimchi craving. Two days ago, I headed down to the supermarket myself and bought a tub of ready-made kimchi, as I could not hold out any longer and just HAD to have some kimchi, in one form or another. With this kimchi, I made a crazy easy and super tasty kimchi fried rice dinner for the husband and myself (the kids had the non-spicy fried rice which I prepared separately), topped with a crispy fried egg that had a yolk which spilled golden goodness when prodded.
Needless to say, it was an extremely satisfying dinner. I also got to utilize one of my most favourite ingredients - Korean Chilli Paste or Gochujang (read more about this baby through the links!) it is one of the items that I MUST MUST MUST have in my pantry, and also one of those things that I will make sure to buy another of even when I am not completely done with the present one in the fridge. It is THAT good! Kimchi Bokkeumbap, neomu mas-issneun!
You will need~ - 2 cups worth of cooked white rice (about 4-5 bowls), cooked the day before and refrigerated overnight - 1 cup Kimchi - 1/4 cup Kimchi water/plain water - 2 Tbs Gochujang/Korean chilli paste - 2 cloves of garlic (chopped) - 1/2 Yellow Onion (diced) - 1/2 Carrot (diced) - 1 cup Spring/green onion (chopped up like in picture above for garnish)
It is advisable to use a large pan for cooking the fried rice as you will need lots of space to coat the sauce evenly on the rice. Start by preparing the garlic, yellow onion, carrots and green onion by dicing them up. In the pan, heat up about 2 tablespoons of vegetable oil, and fry the garlic, carrots and yellow onions until it is fragrant, at this point, lower the fire. Add in the cupful of kimchi and its kimchi water. If the kimchi you have on hand is dry (like the one I used) with no extra liquid, pouring in plain water will do the trick too, don't fret. Stir the kimchi around for a bit, and then throw in the Gochujang. Mix the Gochujang in with the liquid. Now at this point, it is time to introduce the star of the dish - the white rice. Preferably with two spatulas (or one spatula + one serving spoon or two serving spoons or one spatula + one pair of chopsticks, you get the idea), as the refrigerated rice should be hard at this point, start breaking it up to allow for even coating of the sauce on every particle of rice. Halfway through this step, turn off the fire, as we do not want to burn the rice. Before serving, throw in the green/spring onions and remember to take in the gorgeous color before gulping it all down.
Printable Version>>
15-Minute Kimchi Fried Rice
Author:
Pamela Koh

@ Kitchen Missus
Prep time:
Cook time:
Total time:
Satisfy your Kimchi craving in under 15 minutes with this super simple recipe. Enjoy yourself some extra time to catch up on that K-drama!
Ingredients
2 cups worth of cooked white rice (about 4-5 bowls), cooked the day before and refrigerated overnight
1 cup Kimchi
1/4 cup Kimchi water/plain water
2 Tbs Gochujang/Korean chilli paste
2 cloves of garlic (chopped)
1/2 Yellow Onion (diced)
1/2 a Carrot (diced)
1 cup Spring/green onion (chopped up like in picture above for garnish)
Instructions
* It is advisable to use a large pan for cooking the fried rice as you will need lots of space to coat the sauce evenly on the rice.
Start by preparing the garlic, yellow onion, carrots and green onion by dicing them up.
In the pan, heat up about 2 tablespoons of vegetable oil, and fry the garlic, carrots and yellow onions until it is fragrant, at this point, lower the fire.
Add in the cupful of kimchi and its kimchi water. If the kimchi you have on hand is dry (like the one I used) with no extra liquid, pouring in plain water will do the trick too.
Stir the kimchi around for a bit, and then throw in the Gochujang.
Mix the Gochujang in with the liquid.
Now at this point, it is time to introduce the star of the dish - the white rice. Start breaking it up to allow for even coating of the sauce on every particle of rice. Halfway through this step, turn off the fire, as we do not want to burn the rice.
Before serving, throw in the green/spring onions.
Serve!(*optional- with a fried egg)
Related articles across the web